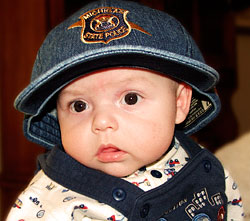 Evan Alanson Nessel was born healthy into the welcoming family of Brian, Andrea, and big brother Cameron Nessel on September 13, 2006. He shared a birthday with his grandmother, and was named after both grandfathers. Evan was truly loved.
Cameron was immediately curious about his baby brother and spent the five months of Evan's life talking about what he would do with Evan once Evan got "bigger". All it took to get Evan to smile was to simply make eye contact with him. His eyes would light up and his angel cheeks were immediately pierced by his deep dimples. He loved watching his family, feeling his daddy's beard against his skin, rocking with mommy, taking baths, being a patient while big brother played doctor, and laying in his crib at night watching his animals float above his head in his mobile. But his smile is still what everyone remembers most.
Many times Evan would become distracted while trying to drink his bottle because he realized that that if you were watching him, he could spend time grinning at you and that was more important than lunch! Other than the occasional sniffle or cough, Evan was never sick. Other than the occasional whimper because he was hungry or felt left out of the action, Evan was always happy.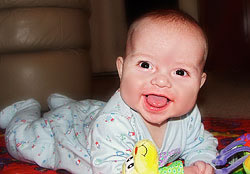 On February 27, 2007, Andrea went to daycare to pick up Cameron and Evan, and was looking forward to a quiet evening at home together as a family. When she arrived, Evan was napping as he usually was at that time of day, safe in his crib. When they went to wake Evan, however, he had passed away in his sleep. Life saving efforts went on for over 30 minutes but Evan was gone. It was later determined that SIDS took Evan's life that day. Everyone that ever cared for Evan took all possible precautions and safety measures to protect him from this horrible syndrome. Even though we did everything right, we could not escape tragedy.
As a family, our desire is that Evan's legacy continue far beyond our years. We know that others will have to face similar pain and although we cannot change that, we hope to offer some of the comfort that comes with knowing that as a parent, you are preserving your child's memory in the way that you feel is only right.
Because we had life insurance for Evan, we were allowed to focus on our grief, on our family, and on our desires and wishes for his memorial. Every parent facing the unthinkable deserves at least that.
Sincerely,
Evan's Family